Thursday 06 February 2020
Points experts
Focus Gold & Mines – A promising start to the year…
Gold had a very good start to the year as prices ended the month up 4.35% ($), and after it climbed above the $1600/oz threshold for a few hours, on 8 January, when Iran launched an attack on a US military base in Iraq. The spread of the coronavirus, at a faster rate even than SARS in 2003, has since caused a considerable resurgence of interest in defensive assets, which
has benefited gold. Gold prices have gained fresh momentum, exceeding the peak of $1557/oz reached last summer and managing to stay above it. The target defined, of $1700/1715/oz (76.4%), which goes beyond the already exceeded 61.8% ($1587/oz) retracement of the 2011-2015 fall ($1921/$1046/oz), still applies. On the downside, the important support zones are now $1550/$1557/oz (short term), $1440/$1460/oz (medium term) and $1365/$1385/oz (long term).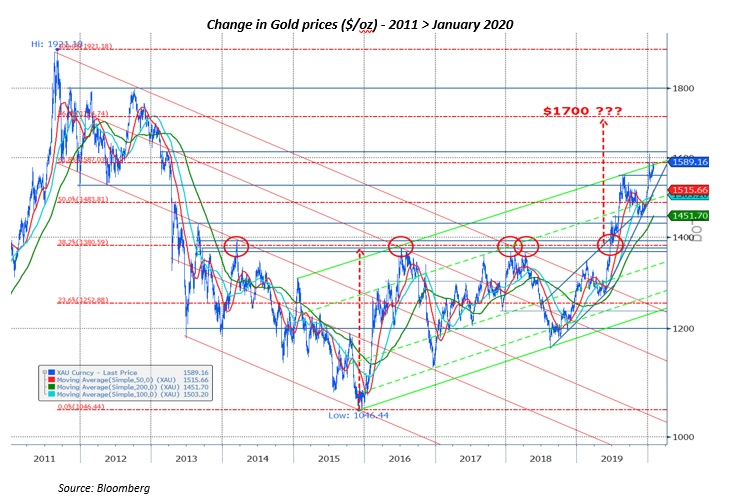 As the US dollar is still strong, the gold market driver offering the most support is US real interest rates. The squeeze on US real interest rates since the start of the year, with the 10-year rate returning to -0.1378%, its lowest level since May 2013, has boosted the gold market, largely offsetting the lack of support from the US dollar and inflation expectations. 10-year US real interest rates staying in negative territory would be very good news for gold in 2020.


Around seven years later, the gold ETP assets under management record is on the verge of being beaten! The total amount at the end of January 2020 was 2572.4t vs. 2572.8t in December 2012.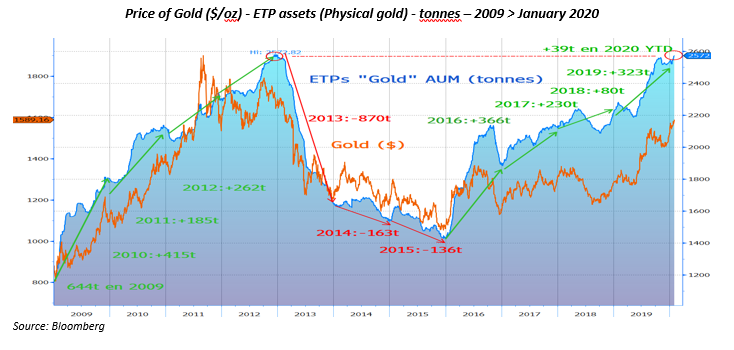 The same trend can be seen in the futures markets (COMEX – New York Commodities Exchange), where long noncommercial open positions are at an unprecedented high (418k lots on 10 January, i.e. 41.8Moz: around 1300 tonnes). Beware the risk of over-buying…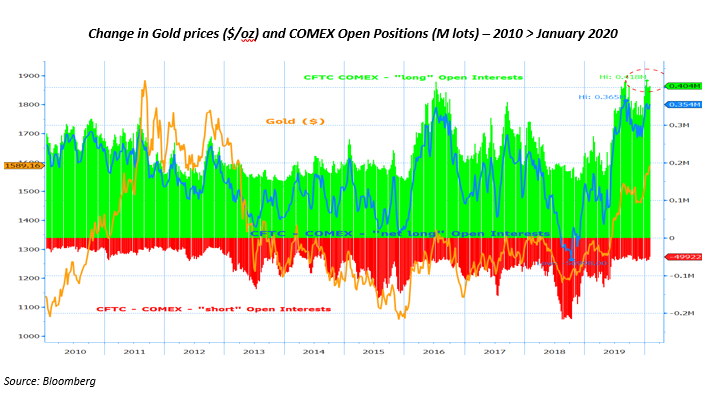 The World Gold Council has published its latest report on the major gold market trends in the 4th quarter of 2019 and also for the full year. It appears that demand contracted overall by 19% in the 4th quarter (1045t) and by 1% (4356t) over the full year 2019.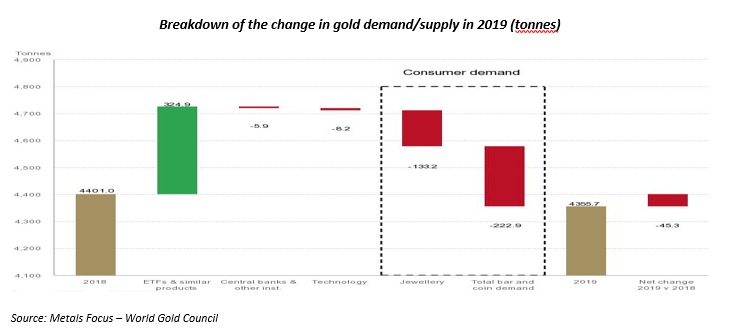 With regard to the 4th quarter, the 19% contraction of demand is due to lower ETP activity, on the part of central banks, and a contraction of the jewellery market because of the rise in prices. As for gold ETPs, net purchases in the 4th quarter came to only 27t, versus 114t in the 4th quarter of 2018. Central banks also reduced their transactions, only accumulating 110t, compared with 166t in the 4th quarter of 2018. That being said, as in previous quarters, Russia and Turkey remained particularly active, accumulating 29t and 27t respectively, versus 77t and 5t respectively in the 4th quarter of 2018. The Indian central bank was also active, with 15t purchased, but this was less than in the 4th quarter of 2018, when it bought 19t. Jewellery demand fell by 10% in the 4th quarter of 2019 vs. 2018 (565t vs. 631t), and gold bar and coin demand by 16% (241t vs. 285t).
Over the full year, the macro-economic environment caused a significant easing of US real interest rates, and supported interest in gold ETPs. On the other hand, the sharp increase in gold prices weighed on purchases of physical gold, in the form of jewellery, gold bars and coins. ETP assets therefore grew four times more than in 2018 (323t vs. 80t), while jewellery purchases contracted by 6% compared with 2018 (2135t vs. 2281t). The fall was even greater in India (-9%) and China (-7%), and especially Hong Kong (-24%), as a result of the protests. As for gold bar and coin purchases, these decreased by more than 20% (871t vs. 1094t). With respect to central banks, although their annual purchases contracted by 1% (650.3t), note that they had long positions for the 10th consecutive year, thanks almost exclusively to emerging central banks.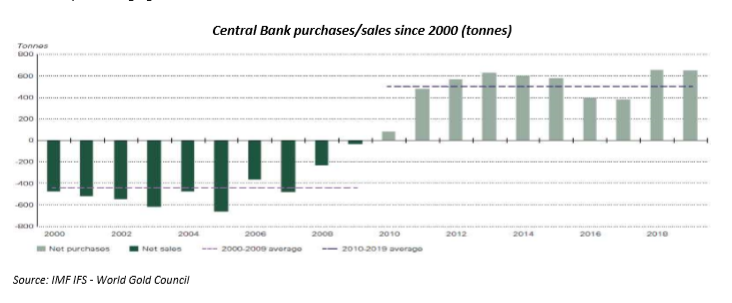 While global supply increased by 2% in 2019 (4776t vs. 4673t), the fall in mining production, although modest (-1%, i.e. 3464t vs. 3509t in 2018), was the first seen since 2008. The three main reasons can be found in China, where stricter environmental standards had a 6% impact on production, in South Africa, where the decline is continuing, and in Indonesia (Grasberg mine). The surge in gold prices in 2019 supported recycling, however, with an 11% rise in volumes (1304t vs. 1176t), to their highest level since 2012.
Other Precious Metals
Palladium has experienced an explosion of volatility, with prices now 2.4x higher than platinum prices! This is unheard of. After setting a new record of $2577.27/oz on 20 January, i.e. 32.7% growth since the start of the year, palladium prices underwent a 12.65% correction in just two days, but nevertheless ended the month on a 17.8% ($) high. The turbulence was such that John Metcalf, the Chairman of the London Platinum and Palladium Market, stated that current market conditions were a threat to the London market's liquidity. Palladium, one of whose main uses is the production of catalytic converters for petrol engines, benefited notably from the introduction of more restrictive environmental standards in China. London is one of the only places where investors can take delivery of the physical metal, and demand is such that the premium on the metal exceeds the price of futures maturing in March by nearly $200! Such a situation has not been seen for more than 20 years when, during the period between 1997 and 2000, delays in exports from Russia unbalanced the market. To add insult to injury, and illustrating the general shortage, palladium borrowing rates jumped by more than 30% on an annual basis, more than 5x the rate seen in 2018 before prices soared.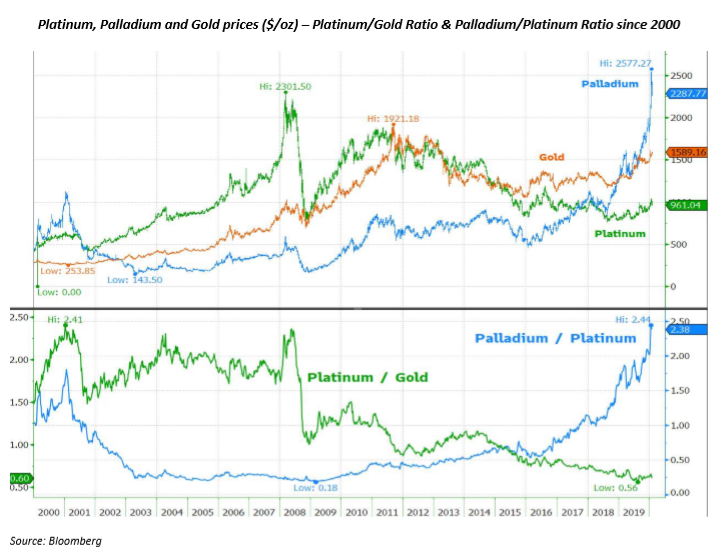 Silver has not yet made a comeback. Silver prices, which rose by only 0.55% ($) in January, are still trailing gold, with a gold/silver ratio (mint ratio) ending the month at 88.1x vs. 84.9x at the end of December, and are still very far from the averages observed over 10, 20 and 30 years, of 67.7x, 64.7x and 67.5x respectively.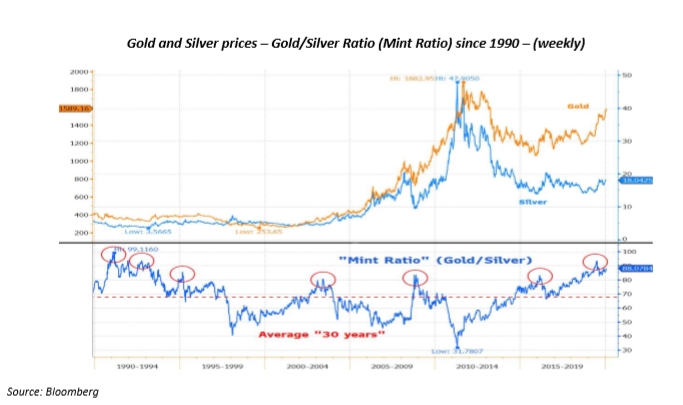 What about Gold Mines?
Gold-mining stocks have failed to benefit from this buoyant environment. Although gold prices appreciated by 4.35% ($) in January, mining stocks lost around 1.45% ($), suffering from their equity status at a time of greater volatility in the equity markets. Investment flows are tentatively returning to this asset class, however, and the year is not yet over... The asset class's full potential is far from being achieved. Since September 2011, when the gold and mining stock theme peaked, while the global markets (MSCI World) have gained nearly 130% ($), gold prices are still down by around 13% ($) and mining stocks by around 48.5%!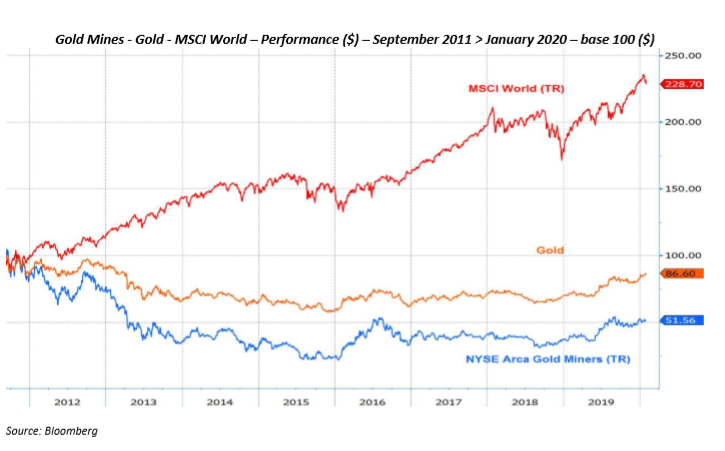 After making significant progress since November 2018, the profit outlook for the gold sector has fallen due to the capping of production and slight a rise in operating costs.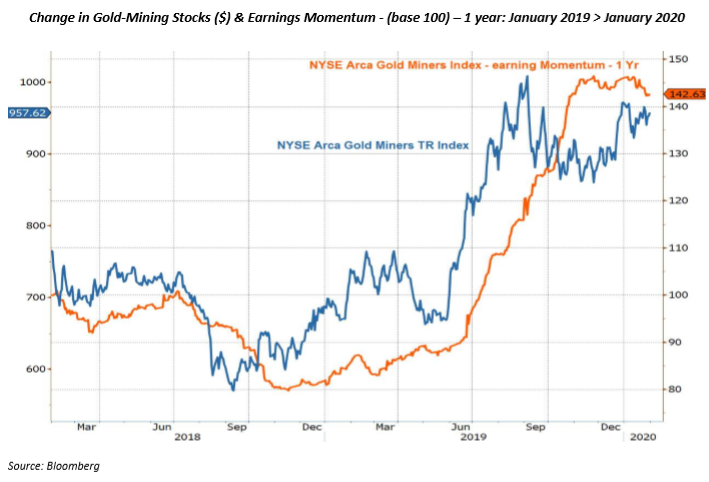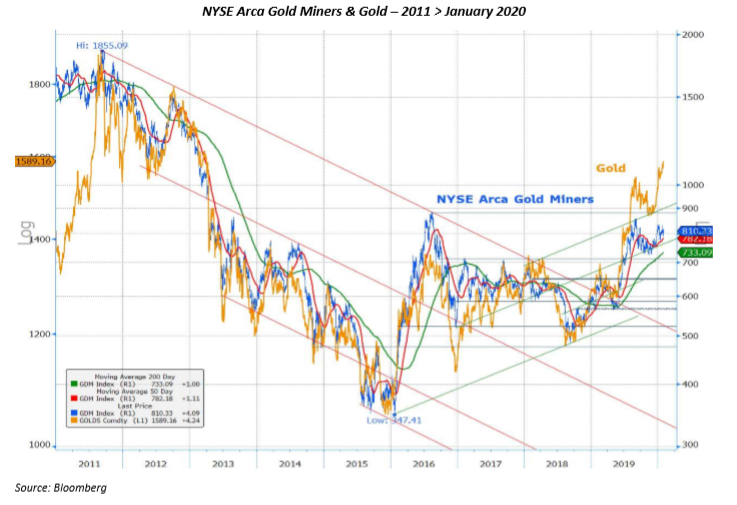 Valuation of the gold-mining industry
The sector underwent a revaluation in January, as the fall in production and the rise in operating costs were factored in, but its valuation remains at a historically low level. The valuation multiple measured using the P/NAV (spot) ratio, of 1x, still falls short of the average observed since June 2013 (around 1.15x)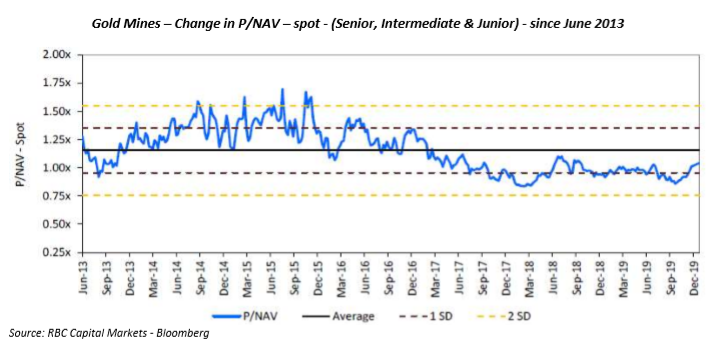 There was no real change in the P/CF ratio, however, which was still at around 6x, nearly a standard deviation below its 10-year average of 9x.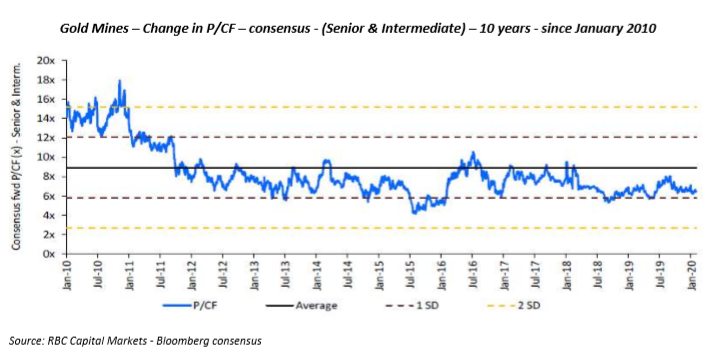 Written on 5 February 2020
Find below the full document.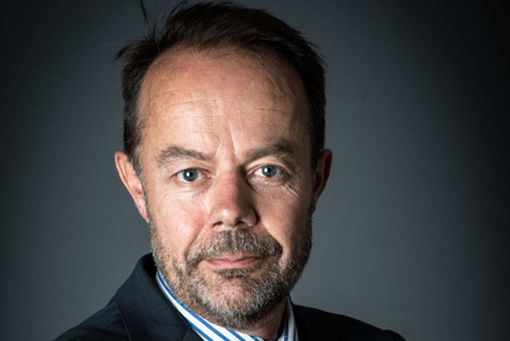 Arnaud du Plessis
Senior Portfolio Manager, Global Thematic Equities, Natural Resources / Gold & Precious Metals CPR AM
Contact us
Need more information?
Need more details on how this offering can be subscribed?
Feel free to ask us questions.