Friday 14 February 2020
Publications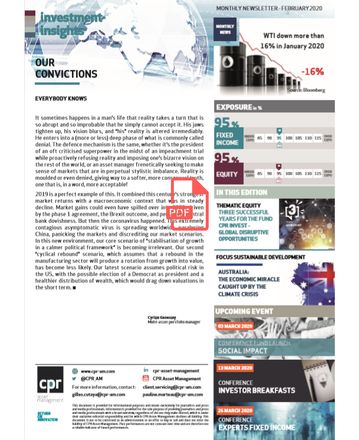 Investment Insights - our convictions - February 2020
Please find below our, our publication "Investment insights" which will give you our vision of the market and our 3 months scenario.
«EVERYBODY KNOWS »
It sometimes happens in a man's life that reality takes a turn that is so abrupt and so improbable that he simply cannot accept it. His jaws tighten up, his vision blurs, and "his" reality is altered irremediably. He enters into a (more or less) deep phase of what is commonly called denial. The defence mechanism is the same, whether it's the president of an oft criticised superpower in the midst of an impeachment trial while proactively refusing reality and imposing one's bizarre vision on the rest of the world, or an asset manager frenetically seeking to make sense of markets that are in perpetual stylistic imbalance. Reality is moulded or even denied, giving way to a softer, more consensual truth, one that is, in a word, more acceptable! 2019 is a perfect example of this. It combined this century's strongest market returns with a macroeconomic context that was in steady decline. Market gains could even have spilled over into 2020, driven by the phase 1 agreement, the Brexit outcome, and persistent central bank dovishness. But then the coronavirus happened. This extremely contagious asymptomatic virus is spreading worldwide, paralysing China, panicking the markets and discrediting our market scenarios. In this new environment, our core scenario of "stabilisation of growth in a calmer political framework" is becoming irrelevant. Our second "cyclical rebound" scenario, which assumes that a rebound in the manufacturing sector will produce a rotation from growth into value, has become less likely. Our latest scenario assumes political risk in the US, with the possible election of a Democrat as president and a healthier distribution of wealth, which would drag down valuations in the short term.
Cyrille Geneslay,
Multi-asset portfolio manager
Thematic equity - Three successful years for the fund CPR Invest - Global Disruptive Opportunities
By Wesley Lebeau, Thematic Equity Portfolio Manager - CPR AM
Focus sustainable development - Australia : the economic miracle caught up by the climate crisis
By Juliette Cohen and Bastien Drut, CPR AM Strategists
Overview of our market scenarios at the end of February 2020
Central scenario: The global growth stabilised at a low level
Alternative 1 scenario: A cyclical rebound
Alternative 2 scenario: A political turn in the US
Our next publication will be published in March 2020. Our teams are at your disposal for any complimentary information.
Contact us
Need more information?
Need more details on how this offering can be subscribed?
Feel free to ask us questions.