Friday 14 February 2020
Points experts
Thematic equities - Three successful years for the fund CPR Invest - Global Disruptive Opportunities
By Wesley Lebeau, Thematic Equity Portfolio Manager - CPR AM
Last December, CPR Invest – Global Disruptive Opportunities, with 1.7 billion euros under management, marked its symbolic three-year anniversary. There was even more reason to celebrate when it was immediately awarded fi ve Morningstar stars and an A rating by Citywire for its main manager, Wesley Lebeau
WESLEY, YOU HAVE MANAGED THE FUND SINCE IT WAS LAUNCHED. WHAT IS YOUR TAKE ON IT, THREE YEARS LATER?
The first thing that comes to mind is its very strong returns. Granted, its performance in absolute terms was driven in 2019 by the broader equity market, which turned in one of its best years in more than 30 years, but the fund still outperformed the MSCI World by almost 9%. Since its 22 December 2016 launch, The fund has achieved an annualised return of 13.9%, hence a 3.6% out performance against its reference index (net return in euros, I-Acc units, as of 31 December 2019). Based on its very strong returns, the fund was awarded five Morningstar stars in early January 2020.
I would also point out how keen investors are on the investment strategy itself, which is based on a comprehensive grasp of the entire range of the disruptive universe. This sets it off from the single-theme approaches taken by our competitors. It was our multi-sector philosophy, on top of its excellent performances, that convinced French institutional investors to select the fund to finance tech companies, at the initiative of the French Ministry of Economics and Finances.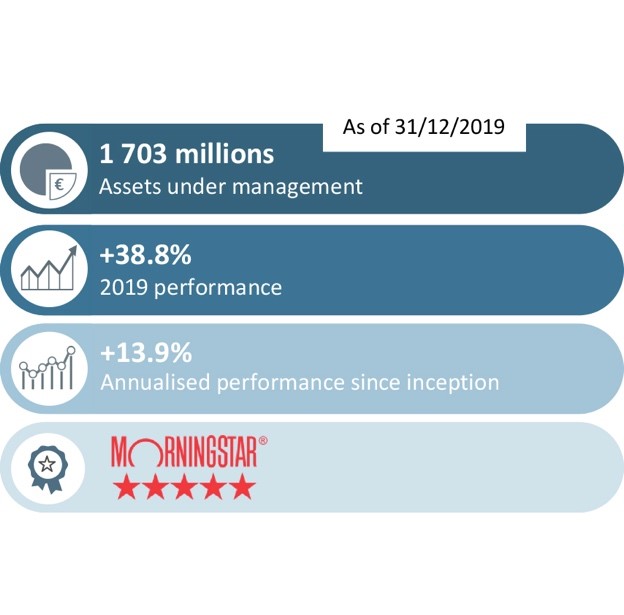 HAS YOUR CONVICTION-BASED MANAGEMENT STYLE PAID OFF IN TERMS OF PERFORMANCE?
Performance attribution shows how integral our convictions have been to the success of our strategies. Stock-picking has actually accounted for 95% of total returns. I make it a point to be intimately familiar with companies in the disruptive universe, which I select for the portfolio only after an in-depth analysis of their fundamentals. It is also in the field, through company visits, that I acquire a hands-on understanding of their businesses. In three years, I have meet with companies more than 600 times.
Incidentally, the market environment in 2019, with its heavy intra-sector dispersion, was instrumental in making stock-picking our main driver of performance. With this in mind, we sharply reduced the number of stocks in the fund, in order to raise its idiosyncratic risk. This resulted in a concentrated portfolio, which currently contains 64 carefully chosen stocks.
DOESN'T THE EQUITY MARKETS' OUTSTANDING RUN IN 2019, FOR TECH STOCKS IN PARTICULAR, CAST A SHADOW OVER THE FUND'S FUTURE PROSPECTS?
In fact, tech stocks have outperformed constantly for seven years now! In any case, I am comfortable with the outlook for the fund's performance for two reasons:
1/ it has tapped in fully to the tech rally;
2/ its sector diversification endows it with other growth engines.
Remember that this is not only a tech fund, much less a GAFA fund. The GAFAs are not even in the portfolio, which is actually geared toward small and mid-caps (half of it is invested in companies with market caps of less than 10 billion euros). Information technology has contributed only 50% to overall fund returns since launch, and other sectors just as much. In 2019, for example, healthcare contributed as much as technology even with half as much fund exposure.
Concernant la dimension Terre, SolarEdge, un fabricant d'équipements solaires, représente la meilleure performance boursière du fonds en 2019, en hausse de 170 %. Enfin, dans l'Industrie 4.0, la surperformance vient de la thématique des véhicules électriques et de la conduite autonome, avec Ambarella et STMicroelectronic.
WHICH DISRUPTIVE THEMES FARED PARTICULARLY WELL IN 2019?
During the first part of the year, the fund tapped into the performance of fintechs, including PagSeguro Digital, and Big Data with AMD, which continues to win market share from Intel, and Marvell Technology, which has gotten a boost from 5G roll-out. In life sciences and healthcare, performance picked up in September in e-health, with Teladoc and M3, and in immune-oncology in November and with BioNTech in December.
Regarding the Earth theme, SolarEdge, a maker of solar equipment, turned in the fund's top performance in 2019, with a 170% gain. And in Industry 4.0, out performance came from electrical vehicles and autonomous vehicles, with Ambarella and STMicroelectronics.
THE FUND IS HEAVILY EXPOSED TO MERGERS AND ACQUISITIONS. HOW MUCH DID M&A CONTRIBUTE TO PERFORMANCE LAST YEAR?
The faster pace of M&A was also a performance driver in 2019. There were eight deals affecting us, including Roche's takeover of Spark Therapeutics with a 120% premium. We also held targets in the cloud and big data, with Ultimate Software, Elli Mae, Tableau, Zayo and Acacia Communication.
And in fintechs, Total System Services was taken over by Global Payments, the US's third mega-merger in payment technologies. Wordplay received an offer from Fidelity National to create a giant with 80 billion dollars in market cap that is a leader in merchant acquisition and issuer processing.
HOW ARE YOU POSITIONED AS 2020 GETS UNDER WAY?
Despite the prevailing bullish sentiment, we see some sources of concern for 2020. First of all, as this is an election year in the US, we can expect many things to be said that could trigger market volatility. We are also keeping a close eye on the already perceptible impacts of the coronavirus on the supply chain, particularly in manufacturing, the auto industry and IT hardware.
For 2020, we are overweighting GARP ("Growth At a Reasonable Price") stocks, which offer attractive growth and valuations and give us exposure to an acceleration in earnings growth. We are also overweighting high-growth stocks trading at valuations that are below their historical standards. And we continue to focus on a "barbell"approach, featuring high-growth stocks on the one hand and undervalued and less-volatile stocks on the other. WHAT DO YOU EXPECT FROM THE DISRUPTIVE UNIVERSE IN 2020?
First of all, cybersecurity is likely to remain a priority for companies. The cloud's share of security budgets is expected to rise from 28% in 2019 to 38% on average in 2020. According to Gartner, the market should expand from 135 billion dollars in 2019 to almost 200 billion in 2024, which would mean an 8% average annual growth rate. This is one of the world's fastest-growing tech segments. Moreover, the cloud is at the heart of companies' technological transformation. Its widespread adoption raised its aggregate revenues from 99 billion dollars by 2017, and this figure is expected to triple to 325 billion in 2022.
I would also mention MedTech, which is seeing disruption in many therapeutic fields. Interestingly, this theme has been mostly ignored as a healthcare issue in the US presidential campaign, while the debate has focused instead on budget deficits and excessive prices. 5G will also be a big story. Its accelerated roll-out will be a very big factor in support of the semiconductor industry and telecom networks. It is also likely to feed the telephone replacement cycle in mid-year, driven by new apps in areas such as enhanced reality.
Lastly, renewable energies are about to embark on a new era of growth, driven by changes in government policy, lower construction costs, lower interest rates and the growing importance of ESG. This is expected to result in more than 600 billion euros in opportunities by 2030.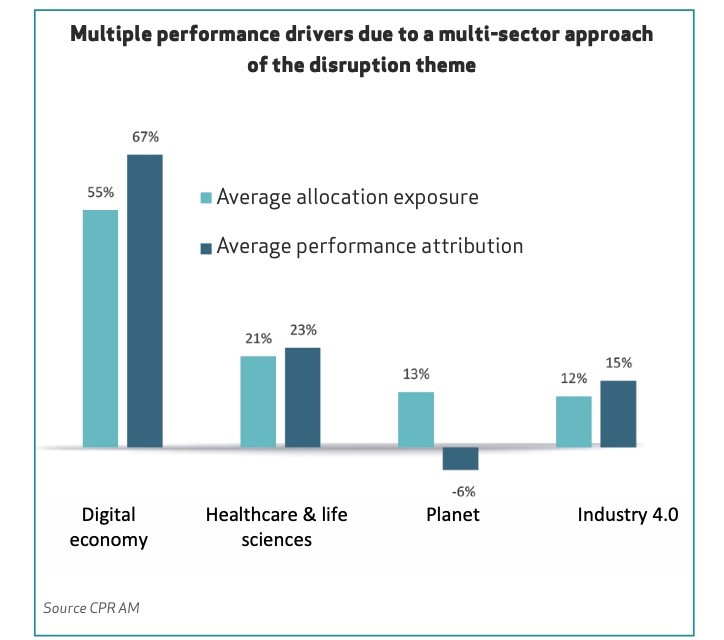 Find below the full document.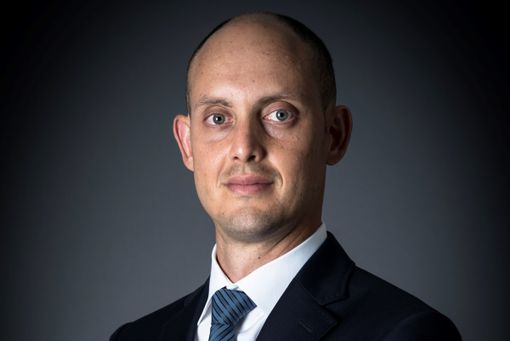 Wesley Lebeau,
Thematic Equity Portfolio Manager at CPR AM
Contact us
Need more information?
Need more details on how this offering can be subscribed?
Feel free to ask us questions.