Our offering

CPR Invest Smart Beta Credit ESG
CPR Invest Smart Beta Credit ESG
Smarter solution, lower risk investment
A pure component of Credit allocation, aimed at reducing risk without sacrificing performance
A complete framework for specific risk by integrating ESG criteria
Systematic management based on a Low Risk factor specifically designed for Credit
For fund details
Looking for further information ?
Please contact our dedicated team who will address your concerns as quickly as possible.

In brief
An alternative to euro credit management offering a better remuneration of risk over the long term
The fund is a pure component of credit allocation in direct securities. Its objective is to achieve a performance equivalent to that of the Investment Grade credit asset class, with a regularly lower level of risk. It fits into a context of durably low interest rates, more and more constraining prudential regulations and rising market uncertainties (political risk, shrinking growth perspectives).
Two complementary frameworks for extra-financial and financial specific risk
As a complement to credit analysis for the management of specific risk, the fund incorporates Environmental, Social, and Governance (ESG) criteria as an integral component of the low risk strategy. In order not to loose information that is related to the different criteria gathered in the average ESG score, issuers are filtered on both such average and on their scores for each of the criteria that are currently deemed material depending on the region (annual review).
An innovative systematic factor management
Systematic management is transparent, unbiased, and provides the ability to cover large universes and to better monitor the strategy according to the different market regimes. Factor construction relies on components selected for their relevance in the Credit asset class and their complementarity, and aimed at reducing risk without sacrificing performance. Moreover, such low risk factor puts a strong emphasis on liquidity, in order to reduce the cost of turnover.

An ESG, low risk credit solution built on three key ideas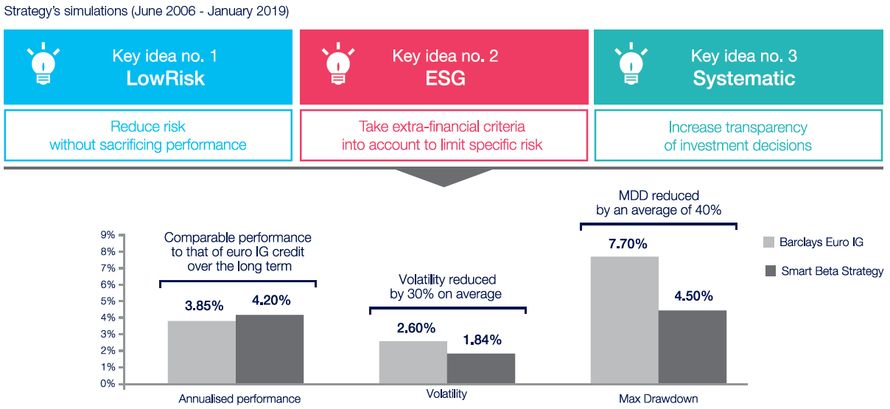 Sources: Extra-financial analysis from Amundi, Barclays, CPR AM Research. Past performances are not constant over time and are therefore not a reliable indicator of future performance. Performance simulations are based on realistic market assumptions.

A firmly Low Risk investment process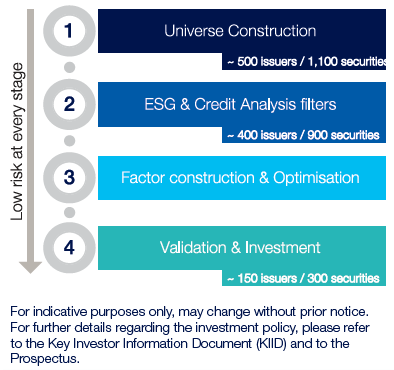 The fund's objective is to outperform the Bloomberg Barclays Euro Aggregate Corporate Total Return Index in Euro, with lower risk, over any 3-year period, while integrating Environmental, Social and Governance criteria in the investment process. The initial investment universe is positioned on bonds denominated in euro, short maturities (1-5 years) and BBB-BB ratings. It includes bonds that have fallen in the High Yield category. This universe then goes through the double filter of Credit Analysis and ESG Analysis in order to reduce financial and extra-financial specific risks.
It is composed of around 900 securities and 400 issuers. Factor construction consists of distorting market capitalisation weightings by attributing each security with a low-risk score resulting from the aggregation of complementary factor components. The classification of securities is then optimised to incorporate management constraints. The management team can buy issues on the primary market to capture issuing premiums. The final portfolio is composed of around 300 securities and 150 issuers.

Keep an eye on
Risk of loss of capital.
No guaranteed performance.
Recommended investment horizon: at least 3 years
The selection of investments is not necessarily made up of the best-performing assets available, due to the managers' expectations.
The fund is exposed mainly to counterparty risks in the event of issuer default.
The fund may exhibit high levels of volatility due to the composition of the portfolio or the applied management techniques, which means that the share values may be subject to major upward and downward fluctuations within a short period of time