Wednesday 13 January 2021
Points experts
Asset allocation - 2020 review & 2021 outlook
Who could have predicted at the end of 2019, a tumultuous but record year for the financial markets, that 2020 would have a pandemic in store on an unprecedented scale, bringing all the world's economies to their knees, with no geographical or sector distinction?
A LOOK BACK AT 2020
Recall that at the end of 2019, the main risks to the economy were Brexit negotiations, an ongoing slowdown in the global economy, and the more uncertain than ever US election outlook. As we look back on 2020, it is striking to see how quickly these concerns fell by the wayside when the world discovered how vulnerable it was to a hitherto unknown and invisible virus. The market plunge that began on 19 February was fast and aggressive, just like the unprecedented measures taken by governments, including lockdowns, curfews, and social distancing, all of which received blanket media coverage within just a few weeks.
Alongside the pandemic response, the unprecedented intervention by governments and central banks in "whatever it takes" mode helped limit the extent of the recession that took hold almost everywhere with the notable exception of China. Massive support and liquidity injections peaked in spring 2020, with the ECB's EUR 1,350 billion Pandemic Emergency Purchase Plan, while in the US, the government approved the USD 2,200 billion CARES Act in March, along with another USD 900 billion late in the year.
This unprecedented intervention is why risky assets began to rally so robustly in late March. All risky assets joined in, but geographical and sector disparities began to widen. The US and Asia led the way, while Europe and emerging markets had a harder time clawing back their losses.
The US outperformance was driven partly by the tech sector's incredible rally, with the Nasdaq soaring by 33% on the year. New technologies and digitalisation were only slightly impacted by lockdowns and even benefited from this rapid and forced transformation of the economy, with the "stay-at-home" theme driving the markets forward. In fact, the pandemic has only accelerated this transformation, which began well before March 2020.
The trend reversed itself slightly with the roll-out of several vaccines late in the year and the prospect of a healthier reopening of economies in 2021. That's why since November we have seen an aggressive rotation into markets that had been hit the hardest by the pandemic. Regions, sectors and investment styles that had been cast aside throughout 2020 rallied robustly on announcements of vaccine efficacy. European, Japanese and US indices outperformed by far, as did energy, banks and, more generally, value stocks.
HOW OUR FUND RANGE IS POSITIONED
Our investment views were, and are, on the whole still aligned with this rotation. We are therefore sticking to a median level of risk in our funds, while overweighting European and emerging shares and, more generally, discounted regions and sectors. In fixed income, unfailing central bank support will feed the quest for yield, which is why we are holding onto heavy exposure to European corporate bonds and underweighting government bonds. We remain bearish on the dollar, which we expect to weaken amidst an upturn in global growth, and are keeping our dollar investments at relatively low levels.
2021 OUTLOOK
The economic outlook for 2021 will also depend on the return of confidence and, hence, the rapid and widespread roll-out of vaccines. The start of the year will continue to be driven by the impact of extended social distancing measures. Economies will therefore have to juggle between short-term support measures, which are essential for offsetting the lack of economic activity, and longer-term measures targeting a more equitable, sustainable and smart growth model. These longer-term measures will be funded by Coronabonds, a joint European issue of EUR 750 billion, which shows that the EU, which early on failed to assist its hardest hit members, such as Italy, can also exit this crisis by the high road.
We expect corporate earnings growth to be decisive in 2021 for the direction of the equity markets. Equity valuations are being stretched by the sharp drop in profits in 2020. Yes, price/earnings ratios were already high at yearend (at 23 in the US and 16 in Europe). Even so, any immediate pressure on valuations has been eased by the pricing in of a V-shaped recovery expected in corporate earnings in 2021, with gains of about 40% in Europe and 20% in the US. Lastly, hopes of an across- the-board recovery should bring back dividend payouts and share buybacks, which are additional factors in support of equity markets.
Download full document below.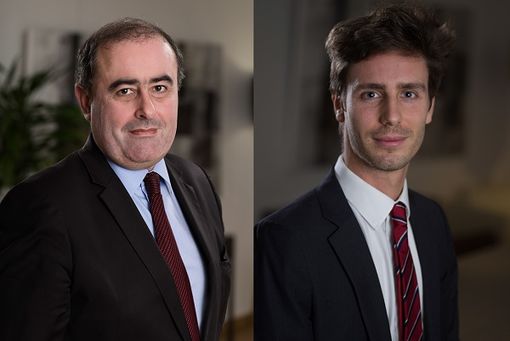 Malik Haddouk, Head of Multi-Asset and Convertibles Management CPR AM & Gauthier Saint-Olive, Product Specialist Multi-Asset and Fixed Income CPR AM