Friday 13 January 2023
Expert updates
Investing in European sovereignty is a necessity
All crises bring their lot of structural changes, including shifts in balances of power, in public policies, and in business investments. They often upend the investment environment. Through one crisis after another in the past three years (Covid, the energy crisis caused in part by the war in Ukraine, the aggravation of the climate crisis, and shortages of all sorts), the global economy is undergoing a big reset that is casting doubt on everything that had been taken for granted until now. This is especially the case in the organising of trade relationships, which had already been tested harshly by the "trade wars" launched by the Trump administration.
For Europe, a very large importer of energy commodities, Russia's invasion of Ukraine laid bare the vulnerability of its fossil fuel supply lines (just think of the attack on the Nord Stream pipeline). This made it essential to accelerate the energy transition, but this is being done in an especially tense trade environment. One example is the Inflation Reduction Act to decarbonate their economy passed by the US this summer. The act includes local production clauses as well as subsidies for local companies that could make life difficult for European companies. The energy transition also requires having easy access to a number of critical raw materials, such as lithium and rare earths. Europe must therefore try to diversify its supply chains but also to develop European facilities for producing, refining and recycling some of these critical raw materials . Otherwise, it will remain closely dependent on foreign powers, all of which, whether friend or foe, are competitors.
Recent years have also done away with the myth of a certain form of "happy globalisation", where Europe could supply itself with all sorts of goods rapidly and inexpensively. Some examples include its difficulty in obtaining masks at the height of the Covid crisis, semiconductors beginning in 2021, and some medicines currently. Sectors as essential as healthcare, autos and telecommunications are dependent on faraway suppliers and are exposed to geopolitical risks. It is mainly for this reason that it is imperative to develop semiconductor production capacities, and this is what the Commission aims to do with its Chips Act. Announcements made thus far to repatriate strategic activities may still look vague or insufficient, but they are probably only the first stages of an inevitable trend. In any case, this is a path that European authorities are trying to go down, with Ursula von der Leyen having declared in her State of the Union speech that she wanted to "make sure that the future of industry is made in Europe".
Investment in European sovereignty has never been so necessary and relevant.
European sovereignty, a fundamental channel for thematic investment
European sovereignty is already a focus of a number of our thematic funds, for example, in participating in the energy transition and in particular the structuring of a value chain for the hydrogen industry. But it is now taking its place as one of the major market themes for the coming years. Current geopolitical tensions will force Europe a leave behind a certain form of naivety in its trade and industrial policies and to strengthen its strategic autonomy drastically. This is especially so in the energy sector but more generally in the issue of security in all its forms.
As the bloodiest armed conflict in Europe since the Second World War, the war in Ukraine has made it imperative to invest heavily in defence. Germany, for example, has announced a military spending target equal to 2% of its GDP, which is unprecedented since the 1990s. For Europe, reinvesting is essential for securing the peace. European authorities also intend to upgrade cyber-protections, with the Cyber Resilience Act, as the economic challenges entailed by cybersecurity are huge (the global cost of cybercrime was 5500 billion euros in 2021).
By causing a steep rise in prices and various shortages, the war in Ukraine has also shown the importance of food security. It is essential for Europe to invest in more robust agricultural chains and to back companies that, including through their technological innovations (agritech), will allow it to ensure better food sovereignty.
Meanwhile, our expertise in pharmaceuticals and medtech makes us especially aware to the issue of healthcare. A number of shortages have laid bare Europe's overdependence on the rest of the world in this area. Rebuilding medical production and innovation capacities is another priority for Europe. For example, as we were short of paracetamol early in the Covid crisis (60% of which came from China), a factory is being built in Isère, France with the goal of supplying one third of the European market. This is an important cause to support to ensure that the health of Europeans is taken care of.
Likewise, a major extension of a semiconductor factory was announced in July, near Grenoble, France. It will serve automakers and other manufacturers, which are currently hobbled by the semiconductor shortage.
Lastly, Europe is an ageing continent, as we all know. We therefore feel it is essential to mitigate the labour shortages that arise in a number of sectors by promoting automation and robotisation. These will help strengthen the productivity of the continent's industrial sector.
For all these reasons, we are convinced that the question of Europe's strategic autonomy will constitute a fundamental economic trend, accompanied by very significant public and private investments, and that it is our responsibility to participate in it.
Download full document below.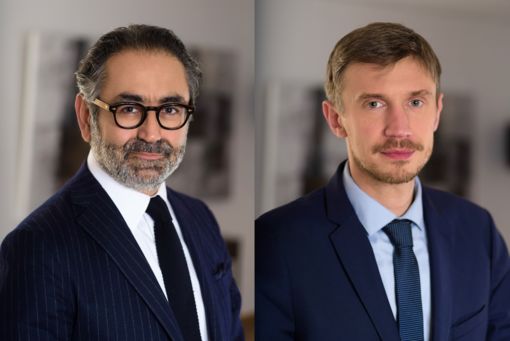 Vafa Ahmadi, Head of Global Thematic Equities and Bastien Drut, Chief Thematic Macro Strategist