Wednesday 13 January 2021
Publications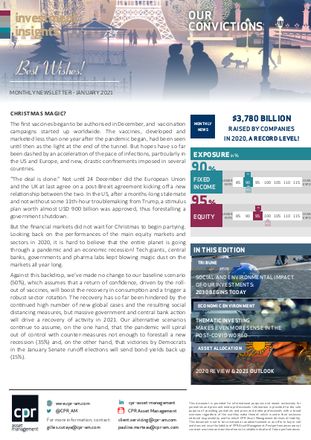 Investment Insights, our convictions - January 2021
Please find below our publication "Investment insights" which will give you our vision of the market and our 3 months scenario.
CHRISTMAS MAGIC?
The first vaccines began to be authorised in December, and vaccination campaigns started up worldwide. The vaccines, developed and marketed less than one year after the pandemic began, had been seen until then as the light at the end of the tunnel. But hopes have so far been dashed by an acceleration of the pace of infections, particularly in the US and Europe, and new, drastic confinements imposed in several countries.
"The deal is done." Not until 24 December did the European Union and the UK at last agree on a post-Brexit agreement kicking off a new relationship between the two. In the US, after a months-long stalemate and not without some 11th-hour troublemaking from Trump, a stimulus plan worth almost USD 900 billion was approved, thus forestalling a government shutdown.
But the financial markets did not wait for Christmas to begin partying. Looking back on the performances of the main equity markets and sectors in 2020, it is hard to believe that the entire planet is going through a pandemic and an economic recession! Tech giants, central banks, governments and pharma labs kept blowing magic dust on the markets all year long.
Against this backdrop, we've made no change to our baseline scenario (50%), which assumes that a return of confidence, driven by the roll- out of vaccines, will boost the recovery in consumption and a trigger a robust sector rotation. The recovery has so far been hindered by the continued high number of new global cases and the resulting social distancing measures, but massive government and central bank action will drive a recovery of activity in 2021. Our alternative scenarios continue to assume, on the one hand, that the pandemic will spiral out of control with counter-measures not enough to forestall a new recession (35%) and, on the other hand, that victories by Democrats in the January Senate runoff elections will send bond yields back up (15%).
TRIBUNE - Impact investing: 2030 begins today
ECONOMIC ENVIRONMENT - Thematic investing makes even more sense in the post-covid world
ASSET ALLOCATION - 2020 review & 2021 outlook
Overview of our market scenarios as of 22 december 2020
Central Scenario: Baseline: return of confidence thanks to vaccines. Consumption resumes with an aggressive sector rotation
Alternative 1 scenario: It takes too long to implement vaccinations and support measures are not enough
Alternative 2 scenario: The us senate falls into the democratic camp
Our next publication will be published in February 2021. Our teams are at your disposal for any complimentary information.
Sign up to our newsletter
Follow the latest news from CPR AM in our monthly publication "Investments Insight, our convictions": our market vision, our 3-month scenarios, and many exclusive articles from our experts.
Subscribe